Basilicotta Launches in 12 stores Citywide!
The word on the street is out: Basilicotta is a delicious treat and versatile to eat. What could be better than a lush vegan cheese made from nutritious cashews and aromatic Basil. With the feel of a creamy pesto mixed with goat cheese/ricotta but none of the dairy, Basilicotta delights those seeking rich vegan spreads, decadent dips, or those missing that essential ingredient in eggplant rollatini, pasta, veggie lasagna and as a topping for salads. Drop cold teaspoons of it in some bread crumbs and fry in olive oil for a treat you will tell your friends about.
Stay tuned for more recipes using this creamy sensation.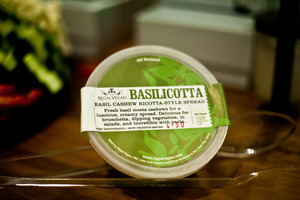 You can find Basilicotta, as well as our Faux Gras (AKA mock chopped liver) at the stores below, or visit our store locator:
BKLYN: Back to the Land, Park Slope Food Coop, Blue Apron Foods, Greene Grape Provisions, Perelandra, Brooklyn Victory Garden, Quechol, Natural Frontier on Courtelyou
MANHATTAN East Side Health, Commodities, Health & Harmony and Health Nuts on 64th st (2 ave).
Looking for some easy vegan recipes? We've added a delicious recipe using Basilicotta to the list!