Dear Friends,
Happy day after Valentine's day – (AKA – as good a day to show your love as any other). My gift to you is a very easy vegan recipe for delicious Cheesy Pesto Kale Chips. You'll find it at the bottom of this newsletter. <3 To shake things up, I'm teaching a new class tomorrow that combines movement and healthy eating called One Healthy Mofo. Check that out here.
Love has been on my mind a lot lately, especially after a very uh, interesting article about Faux Gras™ in The Atlantic called "You can't eat love." In this article the author loses her mind when she reads our package closely and discovers that Faux Gras™ is made with "Love, respect and other nutrients." "Really, Faux Gras?" she writes, "You were made with love, and respect?"
And I say, YES.
I know that when I taste a homemade meal, made by someone who wants cares about me, it tastes very different than does a meal thrown together by a rushed worker at a deli. Don't you?
When I started Regal Vegan in 2007, I began with a mission: to make food that honored the eater. By that I mean, to be concerned for their well-being. As a certified holistic health coach, I knew the importance of getting your fiber, that walnuts provide loads of omega3s, and that soy was dangerous territory (over 90% of the soy in this country is genetically modified). So I used only organic, traditionally-made miso and organic, gluten-free tamari to flavor my lentil walnut pate. I made sure the product was all natural, contained no genetically modified ingredients, remained gluten-free and had a healthy dose of beneficial nutrients. And no artificial ingredients. I wanted it to be so delicious that you would want to eat it regularly, and that after you finished, the positive effects of its ingredients could continue to give you energy, protein and nourishment. If that isn't love, I don't know what is.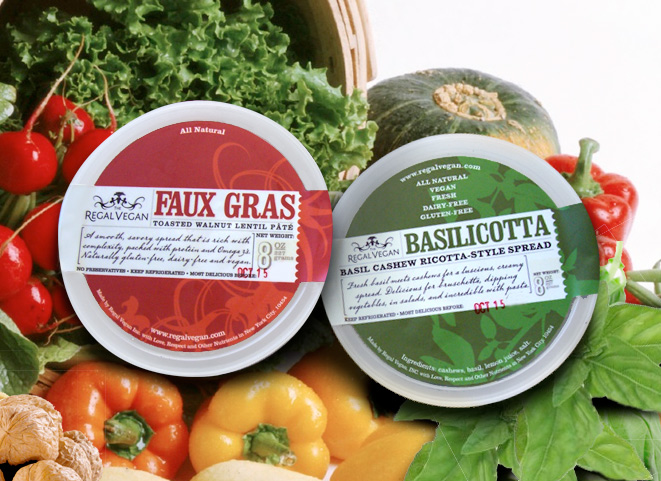 Basilicotta is also made with love, respect and other nutrients, of course. What many enjoy as a cashew cheese dip, a sandwich spread, a sauce, and a creamy herbed-cheese substitute – is made entirely without the dairy. That's where the respect comes in – for the animals and for our one, precious planet. And nutrients, of course: we know that cashews are rich in iron, phosphorus, selenium, magnesium and zinc not to mention phytochemicals, antioxidants and protein. They have the same monounsaturated fat found in olive oil. Basil has some pretty incredible properties as well: it's anti-inflammatory, anti-bacterial, is loaded with beta-carotene, magnesium and anti-oxidants. You're welcome. I love you.
I'm developing new products with the same tenets in mind. Please stay tuned – we'll have some at the 
Vegetarian Food Festival
 this March 2nd and 3rd. I've also got a gourmet vegan recipe in Linda Long's new book 
Virgin Vegan
 for which we'll be doing an event at the 
James Beard Foundation
 on March 6th. You're invited!
Want to share the love with some friends in other places? WE SHIP.
I hope to see you all soon at one or all of our upcoming classes, events and tastings. Please fan Regal Vegan on facebook and follow us on twitter and tumblr. We appreciate your support and wish you a joyful, love-filled month.
With love, respect, and other nutrients,